Unlocking the Bioeconomy for Nontimber Forest Products Webinar Series
Register for This Month's Webinar
Bioeconomies emphasize the use of renewable natural resources to sustainably provide products. A bioeconomy can reduce the environmental impact of economic growth. Science-based management promotes sustainable harvests and production.
Nontimber forest products (NTFP) are goods used for a variety of purposes. NTFP provide food, medicine, decorations, nursery and landscaping products, fine art, and crafts. Billions of people worldwide depend on NTFP, either by direct consumption or as a source of income.
These products are relatively invisible in national statistics. This under-reporting obscures the role they play in poverty reduction, food and health security, and social stability.
The IUFRO Task Force is investigating how NTFP can be integrated with the bioeconomy, and how research can support these efforts. The Task Force has more than 70 experts, representing over 20 institutions. The Task Force is facilitating dialogue and sharing knowledge to improve the reporting of NTFP contributions to the bioeconomy.
This webinar series is an opportunity to learn about the ongoing research on these products within a bioeconomy concept.
This webinar series is hosted by the IUFRO Task Force, USDA Forest Service, The Forest History Society, and Renmin University of China.
---
Stone Pine Cultivation and the Emerging Bioeconomy in Chile
September 30, 2021 • 9:30–10:30 a.m. ET / 1330–1430 UTC
Presented by Verónica Loewe Muñoz, Chilean Forestry Institute, INFOR, Chile
Register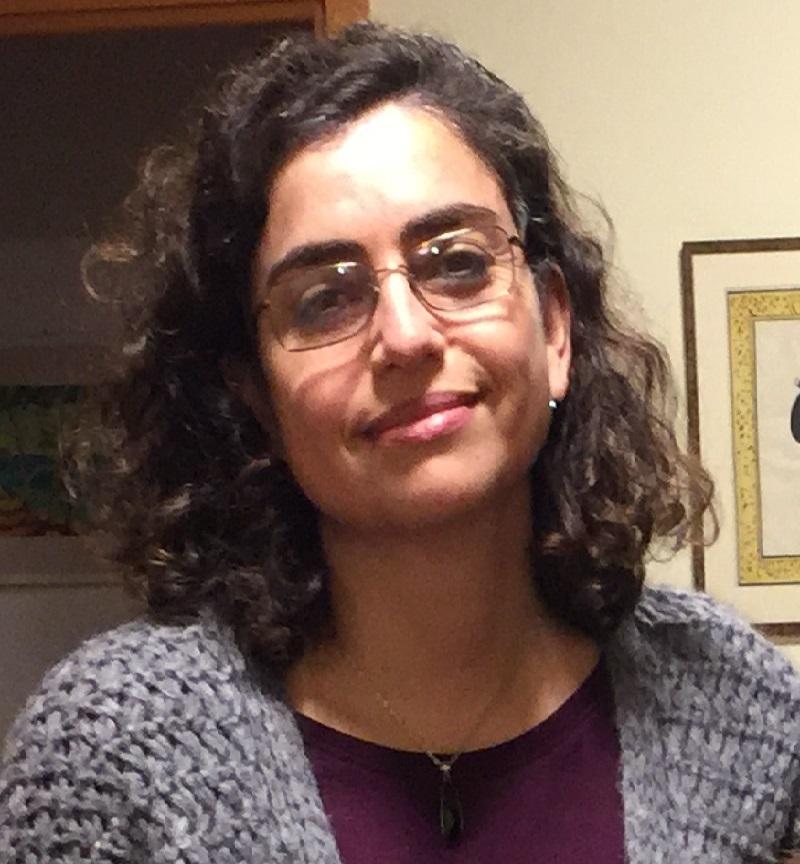 Pinus pinea is a Mediterranean species whose edible seeds are highly valued and demanded worldwide. The cones are harvested mainly from natural forests, and the pine nuts are considered NTFPs. Cropping of this species generates income from cone or pine nut sales, creates jobs, and provides multiple social and environmental benefits, contributing to rural development. The presentation presents the potential contribution of stone pine, an emerging crop in Chile, in terms of its socioeconomic benefits and its relationship with the bioeconomy. An economic assessment of stone pine cultivation was estimated under different management schemes: medium-intensity managed plantation, medium-intensity managed agroforestry system, and high-intensity managed plantation. Regardless of the management scheme, stone pine plantations would contribute to sustainable socioeconomic development, representing an opportunity for transition towards bioeconomy.
Read more about Verónica Loewe Muñoz

Verónica Loewe Muñoz received her BSc in Forest Engineering from Universidad de Chile in 1986. Then in Italy she did a specialization on high value timber production and was introduced to stone pine (Pinus pinea L.). Verónica did her doctorate in Biosciences and AgriFood Sciences at University of Córdoba, Spain (2012–2016) focused on stone pine growth and fruiting, variability, adaptation, and management. In 2019, she was recognized by the International Union of Forest Research Organizations (IUFRO) with the Outstanding Doctoral Research Award in recognition of the scientific achievements in her research, making valuable contributions to the advancement of the species' domestication, contributing to the establishment of over 3,000 hectares of new plantations for pine nut production in Chile. She currently is project leader at the Chilean Forest Institute (INFOR), in charge of the program "Development and contributions for the use of high value forest and forest-fruit species for Chile," funded by the Ministry of Agriculture. Her goal is to offer to society new productive alternatives and sustainable productive models that can be successfully implemented at an economic, environmental, and social point of view.
Schedule
Speaker
Institution
Title
Date
Time
Sven Mutke
Forest Research Center, INIA-CIFOR, Spain
Non-Wood Provisioning Services from Mediterranean Forest Ecosystems
August 31, 2021
7:30-8:30 a.m. ET / 1130–1230 UTC
Verónica Loewe Muñoz
Chilean Forestry Institute, INFOR, Chile
Stone Pine Cultivation and the Emerging Bioeconomy in Chile
September 30, 2021
Register
9:30–10:30 a.m. ET / 1330–1430 UTC
Harald Vacik
University of Natural Resources and Life Sciences – Institute of Silviculture, Austria
Comparing the Potential of Non-Wood Forest Products in Six European Regions
October 20, 2021
Register
7:30-8:30 a.m. ET / 1130–1230 UTC
Kathrin Meinhold
Rhine-Waal University of Applied Sciences, Germany
Commercialization of Baobab (Adansonia digitata L.) Fruit Products as an Exemplary NTFP: Lessons Learned from Local to Global Markets
November 18, 2021
7:30-8:30 a.m. ET / 1130-1230 UTC
Carsten Smith-Hall
University of Copenhagen, Denmark
Towards a Himalayan Bioeconomy
December 17, 2021
7:00-8:00 ET / 1100-1200 UTC
Liu Jinlong
Renmin University of China, Beijing, China
Roles of NTFPs in Poverty Alleviation in China: Cases of Southwest China
January 2022
Joana Amaral Paulo
Instituto Superior de Agronomia, Portugal
Consequences of the Importance and Visibility of a Single Product in Boosting Support for Innovation in the NWFP Sector in Portugal.
TBD
Jim Chamberlain
USDA Forest Service, United States
NTFPs and Bioeconomy in US
TBD
---
Recordings of Previous Presentations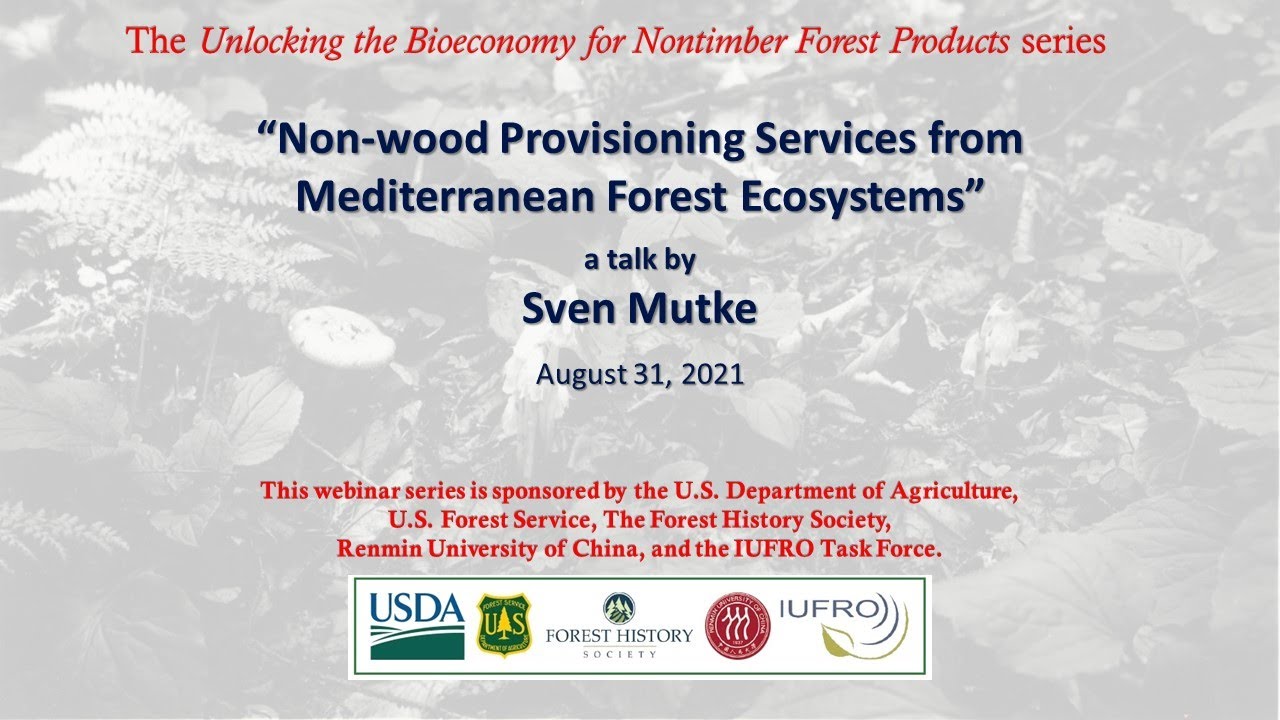 Non-wood Provisioning Services from Mediterranean Forest Ecosystems
August 31, 2021
Presented by Sven Mutke, Forest Research Centre (INIA, CSIC), Madrid, Spain
Pine nuts, mushrooms, and woodland pastures are just a few examples of the nontimber forest products that are increasingly part of the bioeconomy—an economic model that embraces forests as a source of food while prioritizing biodiversity and sustainability. Dr. Sven Mutke discussed Mediterranean forest ecosystems and the goods they provide.
Read more about Dr. Sven Mutke

Dr. Sven Mutke is Head of Service for Forest Industries at the Forest Research Centre of INIA-CSIC, the Spanish National Research Council, though his expertise is centred in Mediterranean Non Wood Forest Products management and production, particularly the edible pine nuts and the pine gum resin tapped for industrial uses. Sven is coordinating the IUFRO Research Group 1.08 on Silviculture for edible NWFPs, and had been coordinating before the FAO-CIHEAM research network on Mediterranean stone pine. He is also member of the global IUFRO Task Force that defines and examine the potential of NWFPs for a Bioeconomy. Sven holds a Ph.D. from the Forestry College of Madrid Tech (2005) on the development of stone pine as grafted orchard crop. He has published extensively on the subject of Mediterranean pine woodlands, their ecology, management and products. Sven has extensive experience working in multipurpose and multi-actor research projects and networks with forest value chain stakeholders in Europe, northern Africa and Middle East, and has collaborated in projects on edible NWFPs in eastern Asia and Southern America.
Download presentation (PDF; 2.52 MB) ↷
View Webinar Recording on YouTube
---